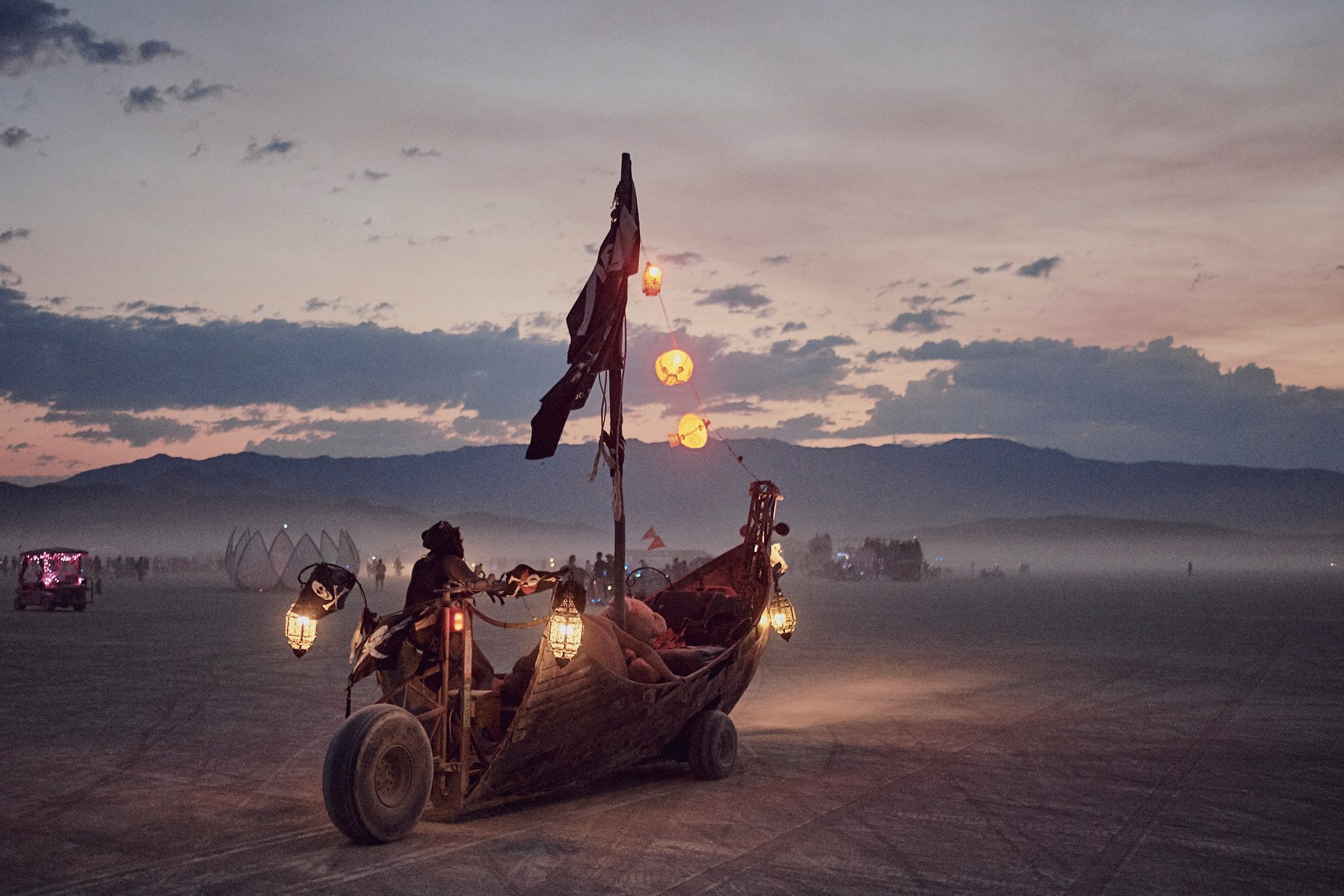 Holy flying-shit-amazeballs-wowzers-wow. I lack the words to describe how amazing it has been. Never expected to see such a spectacle. Riding through the deep playa with the most surprising art and experiences at every stop.. One moment you're playing the trombone in a marching band, the next you're diving into a school bus ball pit, then you're climbing on giant levitating rocks, then you're cracking a code to get into a secret popcorn bar.. You totally get lost and awed and it is so beautiful and the greatest spectacle and experience as a whole that I have ever had. All the regional burns did not prepare me for this, it was something else. So happy and still dreaming about the many adventures and all the things that go wrong and the shit show and the Playa provides moments and the friends that always got your back. Don't think I would have survived without Will & Lisa. So much to think about and to be grateful for the thousands of people who create this magic and art. It all makes me want to get creating and start sewing, building, crafting… And to take a little bit of that magic outside of the desert. There were moments I literally forgot I was at Burning Man, in the states, on planet earth. Just wow. 🔥💛
That was what I wrote upon first landing back in Europe, and thinking back about the experience. I still do daydream about the incredible feeling of being there in the golden hour, amongst giant art pieces hiding away in the light blue dust.
Then a pirate ship - art car sails by. Then another surprising moment, and then another. Never I felt the expression "mind-blown" be more apt.

I still describe it as being the best (and definitely most interactive) art experience I have ever had. I still get new thoughts about what art is (I think it is anything that makes you feel something). I am still amazed at how much creativity and expression goes into creating that sort-of Utopia which is Black Rock City. I am also aware of all the critics ranging from "What a waste of money! What a terrible cost on the environment! Rich kids playground! It's just stupid hedonism!" and to all of those I just have to say.. You do not place enough value on feeling truly amazed, deeply grateful to be alive, wowed and awed like you never thought you could be.

In no particular order, here are some of my favourite images from my time there.. I have to say it's super hard to capture the feeling of being there and no reportage is in any way comprehensive.. You will see maybe 6 art cars out of 600.. I did not even see 5% of the art that was there, it is just so HUGE and so much fun to get lost in, I now very look forward to coming back and doing it again and be even more prepared for the next time..


And on the final evening I also went on a special yoga art tour with some hot friends :D


Special thanks to Lisa & Will for being excellent adventure companions, Max & Marina for being great friends and inviting us to Tramp Camp, Morgan, Carlota and Mango for being wonderful and inspiring in so many ways.. You are all amazing people I am so lucky to call friends! xxx